Synopsis
Stourley Kracklite (Brian Dennehy), an American architect, is supervising the preparations for a exhibition in Rome on the Seventeenth Century visionary architect Boullée, with whom he is obsessed. While there, he suffers from increasingly severe stomach ailments and, simultaneously, alienates his wife, who turns to his Italian rival for affection. Having learned of their relationship, and of his own impending death, Kracklite becomes increasingly desperate and vengeful.
Analysis
Although Peter Greenaway's The Belly of an Architect is neither as visually inventive nor as thematically daring as are many of that director's other films, it is, nevertheless, an appealing and engaging work.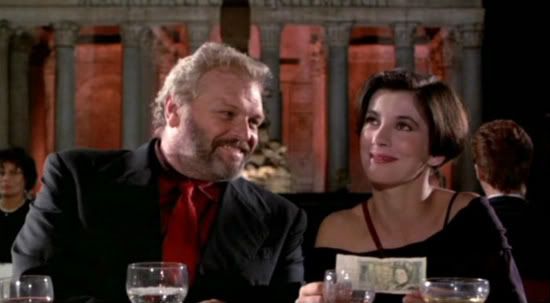 In fact, the movie is invariably attractive simply to look at and its loveliness does contribute to the story's success. Greenaway sets his tale of sex, betrayal, adultery, revenge, and terminal intestinal deterioration against consistently beautiful and lavish backdrops. Rome, lovingly and sensitively filmed by Sacha Vierny, is displayed in all its architectural beauty throughout the film and provides the ideal setting for the tale of an architect.
Not only is The Belly of an Architect a success visually, however, it has some literary merit as well. The movie's script is clever and well crafted. The rivalry and animosity between Kracklite and the Italian organizer of the exhibit are made wickedly apparent with their sharp exchanges, and the mournful tragedy of Kracklite's existence is emphasized in a number of meditative and strangely comic conversations. The dialogue is made particularly enjoyable by its being peppered with the droll pseudo-factual references, here largely historical or biographical, common to many of Greenaway's films. Such comments and asides are nicely handled and provide several moments of humor in an otherwise dark story.
Despite the presence of these appealing and entertaining elements, Greenaway and Vierny cannot alone take credit for the film's success. The performers deserve some praise as well. Dennehy, in particular, is absolutely entrancing in his portrayal of Kracklite. The actor brings out the character's isolation from the world around him, from his wife, from Rome, and from the events that are destroying him, as well as his obsessions with things that do not exist, as Boullée's unrealized architectural fantasies. The actor manages to convey these aspects of his character's personality with his skillful performance rather than by simply relying on the script and director to do so. Kracklite is, consequently, infused with a real life that is sure to fascinate and engage the viewer. The other actors give solid performances, but it is Dennehy who excels here.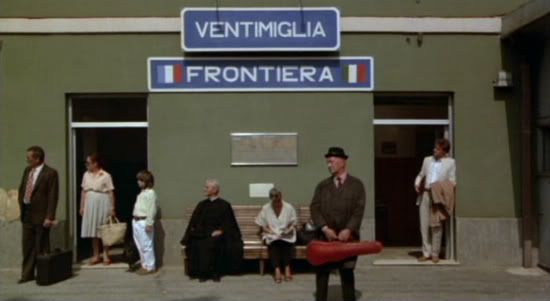 The Belly of an Architect is an attractive and affecting film and includes a number of features that would appear and be further developed in several of Greenaway's later works. Even if it is not as accomplished as are many of those other movies, it is, nevertheless, well worth seeing.
Review by Keith Allen
Home Page / Alphabetical List of Films
List of Films by Star Ratings
Aesthetic Principles / Guide to Ratings
Criteria for Inclusion / DVD Stores / Blog
© 2004 movierapture@hotmail.com Keith Allen. All rights reserved.
Revised 2005