Synopsis
The crew of a sensationalistic television program about unexplained occurrences heads to a remote island off the northern coast of Wales to investigate the claims of a young woman who says she was impregnated by space aliens. Once there, these persons quickly learn that extraterrestrials have, in fact, arrived on the Earth and are intent upon killing every human being they encounter. Unfortunately, the humans on the island find themselves stranded there and realize that they will have to fight back in order to survive.
Analysis
Jake West's Evil Aliens is a generally entertaining if unremarkable parody of science fiction horror films.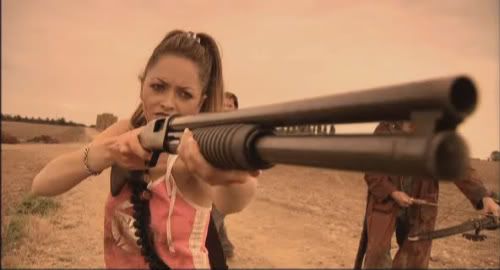 The director does prove himself skilled at poking fun at and playing with the conventions of the horror genre. His narrative includes (or alludes to) virtually every cliché that can be found in such films. The result is genuinely amusing. His characters are, for the same reasons, just as enjoyable to watch. From the very sexy and utterly cynical reporter, Michelle (Emily Booth), to Gavin (Jamie Honeybourne), the overweight, pimple faced, socially awkward alien expert she hires, to the family of weird, violent, and apparently inbred farmers who live on the island, West has included an assortment of wonderfully realized stock characters. I will not say that any of these details are likely to awe the viewer with the creativity they display, but all are likely to keep his attention.
Evil Aliens' greatest appeal is, however, its ridiculous violence. Once the aliens have revealed themselves, and exposed their homicidal behaviors, the humans trapped on the island start using whatever means are available to kill their attackers. The result is a series of goofy, wildly exaggerated, and often grisly set pieces in which the humans slaughter the aliens any way they can. They kill the creatures with hedge trimmers, shotguns, chainsaws, and cricket bats. They run over the monsters with cars; they trick them with well placed banana peels and surprisingly deep puddles, and they even blow them up with the methane emitted by the excrement filling a basement. In the movie's single best scene, one of the protagonists actually chases down and butchers a good number of the extraterrestrials with a combine harvester while playing the Wurzels' Combine Harvester. The sequence is a hoot.
Though it is never frightening, and more likely to elicit chuckles than guffaws, Evil Aliens is quite a bit of fun to watch.
Review by Keith Allen
Home Page / Alphabetical List of Films
List of Films by Star Ratings
Aesthetic Principles / Guide to Ratings
Criteria for Inclusion / DVD Stores / Blog
© 2008 movierapture@hotmail.com Keith Allen. All rights reserved.