Synopsis
Patrice Leconte's The Girl on the Bridge relates the melancholy, touching story of Adele, a sad young woman with a uncontrollable tendency to run away with men who inevitably hurt her, and Gabor, a knife thrower with a sorrowful past.
The two meet while Adele is standing on a bridge intending to throw herself to her death. Gabor attempts to dissuade her, offering her a job as his assistant. She accepts, but only after she has plummeted into the river below and he has saved her. The two then begin their travels, on which they experience good fortune and develop a peculiar mystical bond. At each stop, and on the journeys between these as well, Adele, however, meets various men, each of whom entices her to run away with him. Gabor does his best to protect Adele from herself and to keep her from succumbing to temptation, but, inevitably, he fails.
Analysis
The Girl on the Bridge is a delightful, enchanting movie filled with one lovely vision after another and capable of arousing in the viewer a joyous sense of sadness. It really is a pleasure to watch.
Filmed in luminous black and white, The Girl on the Bridge is invariably beautiful, but its narrative is just as engaging as are its images. The adventures of Adele and Gabor are consistently quirky and entertaining. As they move from one locale to the next, they encounter a variety of distinctive individuals, including a contortionist, a lecherous newlywed scoundrel, and a woman who had previously been Gabor's assistant and lover . They travel on trains, life boats, helicopters, and in a car won in a raffle to casinos, ports, cruise ships, and Istanbul, all of which are imbued by Leconte with a wonderful sense of adventure and excitement. Some seem festive, others thrilling, and still others exotic and intoxicating, but all are, at the same time, imbued with a touching sadness.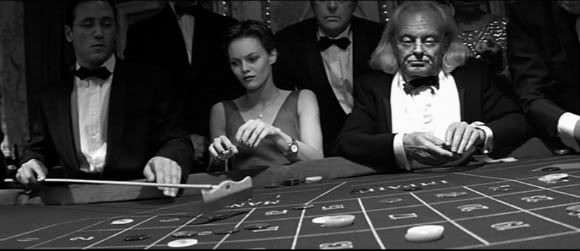 In fact, the film as a whole is tinged with a pleasant melancholy. Adele is a tragic, wilfully self destructive character. Gabor's sadness does not at first reveal itself, but, when it does, it is equally profound. Adele is busy leading herself to death. Gabor has suffered and endured for many years. Adele is his salvation and she his, even though neither is aware of their mutual dependence. While the two are wounded even by one another, and by the concern each feels for the other, they are, nonetheless, ecstatic and joyful together. Ruin may be around the next corner, but they approach it laughing. Whatever their sorrows, they are still able to enjoy the richness of life's experiences. They are, consequently, genuinely touching and appealing characters and are sure to captivate and affect any person of sensitivity.
Leconte has fashioned a marvelous near masterpiece in The Girl on the Bridge. For anyone who realizes how happy sadness can be, the movie is sure to be a delight.
Review by Keith Allen
Home Page / Alphabetical List of Films
List of Films by Star Ratings
Aesthetic Principles / Guide to Ratings
Criteria for Inclusion / DVD Stores / Blog
© 2004 movierapture@hotmail.com Keith Allen. All rights reserved.
Revised 2005