Synopsis
Nathan Detroit (Frank Sinatra), a seedy New York hustler who runs a floating craps game, unbeknownst to his fiancée of fourteen years, Miss Adelaide (Vivian Blaine), is being hounded by the police. He is, consequently, only able to find one place where he can hold his next game. Unfortunately, the person who owns this location is demanding that Nathan first pay him a thousand dollars, which the friendly hood does not have. While pondering what he should do, Nathan runs into an old acquaintance, a professional gambler named Sky Masterson (Marlon Brando), and, hoping to earn the money he needs, bets Sky that he, Sky, will not be able to convince a young, pretty, but humorless and fanatical Salvation Army missionary, Sergeant Sarah Brown (Jean Simmons), to accompany him on a trip he is planning to make to Cuba. Sky accepts the bet and sets in motion a plot he hopes will get Sarah to come with him. As he does so, however, he finds himself falling in love with her. Meanwhile, Adelaide discovers that Nathan has not given up his craps game, he continues with his efforts to discover a location for that game, and various complications ensue.
Analysis
Joseph L. Mankiewicz's musical Guys and Dolls may be intermittently lethargic, occasionally contrived, and never truly inspired, but it is, nonetheless, so colorful and so enlivened by its odd script and vibrant musical numbers that it is generally enjoyable. In fact, throughout its duration, the movie brings to life a unique vision of an imaginary New York underworld filled with quirky gangsters and gamblers, earnest missionaries, frustrated singers, and belligerent policemen.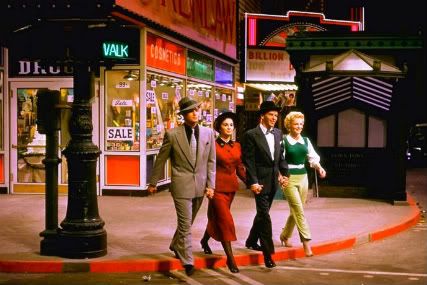 Happily, with their gaudy costumes and exaggerated mannerisms, the persons around whom Guys and Dolls revolves are all fun to watch and are consistently memorable. What is more, the film's dialogue, with its imaginative turns of phrase and eccentric vocabulary, is often genuinely amusing and greatly helps both to give these characters a potent energy and to conjure up a captivatingly overwrought fictional world. The viewer is, thanks to such elements, sure to be charmed by Nathan's wheedling, Sky's conniving, Adelaide's frustration, and Sarah's overzealous decency and to find himself engaged with the lives of these various individuals.
While such characterizations are undoubtedly entertaining, the movie is made particularly involving as a result of its visual qualities, especially its often stylized set designs. These, which include obviously artificial neon signs, complex tangles of sewage pipes, fabulous stage shows, quaintly dilapidated Cuban edifices, and more, almost invariably draw the viewer out of his ordinary existence and immerse him in a brilliantly hued imaginary universe. Admittedly, the director has included a number of sets, such as that used for Sarah's mission, which are bland, pedestrian, and largely forgettable, but, somehow, their presence actually accentuates the appeal of the film's other moments.
What is more, Guys and Dolls is as engaging aurally as it is visually. The various songs with which the movie is punctuated are, for the most part, well performed, enlivened by clever lyrics, and deliciously entrancing. The dance numbers, however, are, perhaps, even more delightful. From the opening sequence, which is filled with capering gangsters and tourists, to a raucous brawl in a Havana café, to a joyous, elaborate ballet performed as a game of craps, nearly all of these scenes are likely to mesmerize the viewer.
As nicely performed as the musical numbers are, and as quaint as much of the dialogue is, such virtues, sadly, are not sufficient to raise Guys and Dolls above the ordinary. The film is simply never realized with enough skill that it is likely to awe the viewer, though it will, most likely, entertain him. Moreover, the story the director tells is occasionally less than enthralling. Sky Masterson's seduction of Sarah is a pleasure to watch, but her seduction of him and many of New York's other gamblers and gangsters, her convincing them to give up their disreputable lives and turn their souls over the Jesus, is handled in a perfunctory way and is not especially funny. Similarly, Nathan Detroit's being tricked into marrying his fiancée is so arbitrary that it is not really moving.
Although Guys and Dolls is certainly not a great film, its peculiar dialogue, stylized sets, and lavish musical numbers are always able to hold the viewer's attention and keep him entertained. The movie is, as a consequence, well worth watching.
Review by Keith Allen
Home Page / Alphabetical List of Films
List of Films by Star Ratings
Aesthetic Principles / Guide to Ratings
Criteria for Inclusion / DVD Stores / Blog
© 2005 movierapture@hotmail.com Keith Allen. All rights reserved.