Synopsis & Analysis
Ryutaro Nakamura's thirteen part animated television series Kino's Journey is both visually stunning and thematically inventive. It is surely one of the most appealing, engaging, and sensitively made programs I have ever encountered.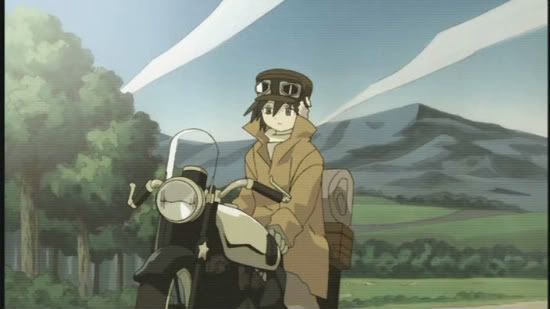 The series as a whole is not structured by one overarching narrative. Most episodes tell a single story, although some tell several related stories, and one story spans two episodes. Despite this lack of narrative cohesiveness, the visual beauty and reflective themes of Kino's Journey so unify the program that it emerges as a harmonious collection of lovely, often wistful, and always complementary meditations. The series never seems disjointed, and the viewer, having been drawn into its world, remains involved with both the protagonists and those they encounter.
All the program's various tales revolve around the travels of a young girl named Kino. Staying in a single place for no more than three days, she wanders from one country to the next riding a talking motorcycle named Hermes. In each of these lands she encounters individuals who either relate their own experiences or who involve Kino in their troubles.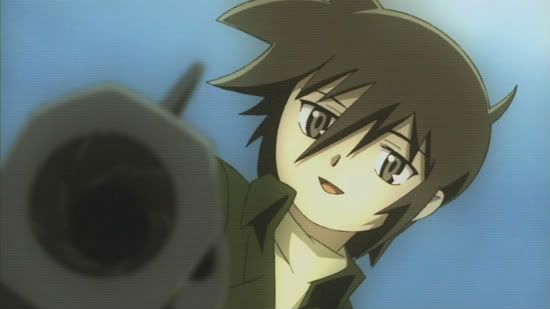 I should, at this point, note that while the potential viewer may suspect that the inclusion of a sentient vehicle would guarantee that the series is absolutely ridiculous, the director somehow actually makes Hermes' presence as a character work. In fact, Nakamura so successfully realizes nearly every element of the program that each of the stories told is remarkably affecting and suggestive of a considerable aesthetic sensitivity.
What is more, the series generally avoids giving answers to the questions it asks in the course of its various contemplations. The viewer is, as a consequence, often left affected by Kino's Journey in a way that he might not have expected. The majority of the episodes are, at the least, melancholy, and a few are frighteningly tragic, but the refinement with which the director has crafted the program and the beauty with which he has infused it so enliven each of Kino's adventures that, though the viewer may be left with a sense of sorrow, he is, more than likely, also left with a sense of both the irony and loveliness of life.
The subjects of these reflections vary considerably and are never narrowly dogmatic. In one episode, for example, humanity's foolish insistence upon believing the words of some prophet or another and the nasty consequences of such beliefs are emphasized. In another, the viewer is reminded of how people seem to refuse to allow themselves ever to be satisfied. In a third, the director even asks a number of interesting questions about good deeds. Each of these musings, and the many others included in the series, are deftly handled and genuinely moving.
One of the program's most interesting elements is its initially ambiguous presentation of Kino's gender. While it is eventually revealed that the character is a girl, this is not, at first, obvious. Even knowing that Kino is a fictitious character, who, being animated, does not belong to either sex, the viewer is likely to discover himself uncertain about how he should relate to this individual. I was surprised myself to see how colored my perceptions of other people are by their gender. Even though Kino's gender is unreal, I had difficulty relating to her until I knew what it was supposed to be. When I was unable to categorize her, I felt a strange sense of uncertainty, a sort of tentativeness, like that I might feel when looking at something from a distance and not being able to discern exactly what it is. This awareness reminded me how rigid my own thoughts can be, how I can easily constrict my world according to set categories, and, by doing so, it helped me to move, at least briefly, outside of those categories. By creating such feelings of uncertainty in the viewer, and making him aware of them, so that he is forced to look into himself, at how he views those around him, Kino's Journey arouses a sense of pensive ambivalence that greatly enhances the emotivity of the already reflective stories it tells.
Moreover, the animation used in the program is consistently beautiful. The character designs are simple and fetching. Kino herself is agile, appealing, and very nicely realized. The backgrounds are generally created with austere but lovely watercolor paintings and are, perhaps, even more attractive than are the series' characters. Fortunately, each of these elements enhances the beauty of the other. The bright, vibrant skin tones of the characters' charmingly rendered faces contrast with the subdued colors of the backgrounds and these differences work well together. The program is an absolute delight visually.
Kino's Journey is, possibly, the most beautiful television series I have ever seen. While it never quite attains greatness, it is consistently engaging and realized with a real aesthetic sensitivity.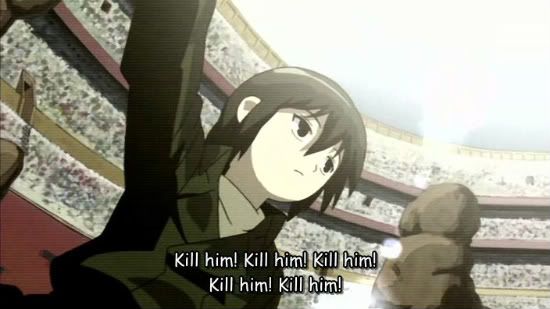 Review by Keith Allen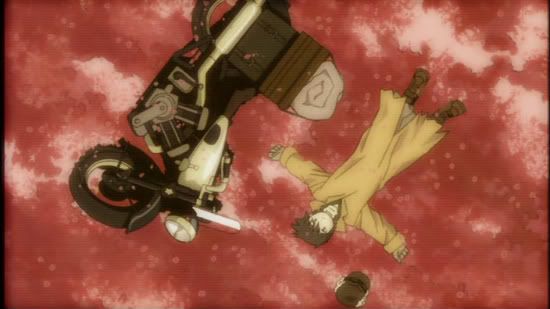 Home Page / Alphabetical List of Films
List of Films by Star Ratings
Aesthetic Principles / Guide to Ratings
Criteria for Inclusion / DVD Stores / Blog
© 2005 movierapture@hotmail.com Keith Allen. All rights reserved.