Synopsis
Kwaidan consists of four separate stories set in pre-modern Japan, all of which involve supernatural happenings. In "Black Hair," the first of these, a samurai who has abandoned his loving wife to marry the daughter of a wealthy daimyo regrets his decision and returns, after an absence of many years, to his former spouse, only to discover that his leaving her had tragic consequences. The second story, "The Woman in the Snow," tells of how Minokichi, a young woodcutter, comes into contact with a mysterious and deadly power. This youth, having been trapped in a remote hut with his master in a snowstorm, sees a strange woman in the night who kills the older man. She does not, however, take Minokichi's life, but she does make him promise he will tell no one he saw her. Later, he meets another young woman, Yuki, whom he marries and with whom he has two children. Despite the happiness Minokichi shares with Yuki, the woman, nevertheless, always has something of the supernatural about her. "Hoichi, the Earless," the third tale, relates how Hoichi, a blind musician living at a Buddhist shrine, entertains the spirits of the dead killed in an ancient naval battle, and the fourth tale, "In a Cup of Tea," revolves around a samurai who sees in a cup of tea the reflection of a man whose ghost haunts him through the following night as he is guarding his lord's castle while everyone else is asleep. When this spectre's equally unearthly companions confront the samurai later that same night, however, the narrative suddenly breaks off and the movie switches to a depiction of a strange incident which befalls a Nineteenth Century Japanese writer who fails to finish a story and who disappears under mysterious circumstances.
Analysis
Masaki Kobayashi's Kwaidan is a visually stunning, deeply affecting, unnervingly eerie, and genuinely numinous film. It is truly a great work of art.
Filled with stylized sets that arouse in the viewer whatever emotion is appropriate to a given scene, whether that is an uncanny, even frightening sense of some potent otherworldly presence in the weirdly gorgeous opening sequence of "The Woman in the Snow" or of overwhelming sorrow and oppressive fear in the concluding scenes of "Black Hair," the movie is absolutely enthralling. In fact, Kobayashi has crafted a breathtakingly gorgeous film. His depiction of the ancient naval battle at Dan-no-ura between the Heike and the Genji clans is among the loveliest scenes I have encountered in any movie. In this sequence, the director presents the viewer with a vision of a rarefied world of such intoxicating beauty, in which colorfully arrayed warriors and elegant courtiers rush to their dearths while bathed in the light of a fiery gold and red sky, that he draws the viewer out of the realm of ordinary experience and submerges him in some exquisite enchanted place, where he is left to drown in an overwhelming flood of such emotions as heroism, desperation, fear, and despair.
By so leaving behind the predictable life he usually lives, that filled with empty, dead objects and concealing few surprises or mysteries, the viewer is transported to a world which, though coterminous with the former, is somehow utterly different as well. He is brought into contact with a strange, numinous reality, alive with potent forces, and is able to savor the presence of such powers in a way he, probably, rarely can in his ordinary life. Having seen how Kobayashi has given visual expression to the existence of these eerie powers, the viewer is provided with a marvelously fearful and genuinely religious experience.
The director's evocation of such feelings is made even more effective by the film's nearly perfect pacing. Kobayashi, over and over again, slowly buildings up, with slow, quiet, drawn out moments, an almost overwhelming sense of dread so that, when whatever deadly presence lies hidden behind the movie's gorgeous images manifests itself, its appearance takes on a truly momentous quality.
It is, in fact, difficult to convey just how affecting the movie can be. In each of his tales, Kobayashi evokes a sense of impending danger, of some mysterious threat that is enveloping the story's protagonist, but he mingles this sense of dread with various other emotions. He engages the viewer with the movie's characters and allows him to feel their sorrows, their fears, their regrets, their loves, or whatever the case may be. As a consequence of such an approach, the viewer is wrapped up not only in Kwaidan's numinous aura, but also in the lives of those persons who come into contact with such awesome powers. The emotional effect the director achieves is invariably impressive.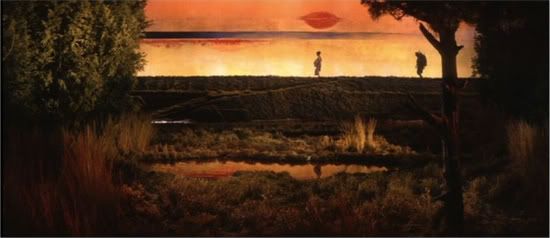 There are very few films that come as close to perfection as does Kwaidan. Kobayashi really has created one of the classics of cinema as an artistic medium.
Review by Keith Allen
Home Page / Alphabetical List of Films
List of Films by Star Ratings
Aesthetic Principles / Guide to Ratings
Criteria for Inclusion / DVD Stores / Blog
© 2005 movierapture@hotmail.com Keith Allen. All rights reserved.