Synopsis
In early Twentieth Century Japan, a young girl, Chiyo (Suzuka Ohgo), is sold by her impoverished parents to a geisha house. Though she soon incurs the displeasure of an older geisha, Hatsumomo (Li Gong), who continuously thereafter strives to do her harm, she also meets the chairman (Ken Watanabe) of a corporation who treats her kindly and decides to persevere. Having reached adulthood, Chiyo (Zhang Ziyi) wins the patronage of an influential older geisha, Mameha (Michelle Yeoh), under whose tutelage she herself achieves renown, all the while hoping to win the heart of the chairman who had helped her when she was a child.
Analysis
Rob Marshall's Memoirs of a Geisha is a visually appealing, often affecting film. While it never rises above the ordinary, it is still a pleasure to watch.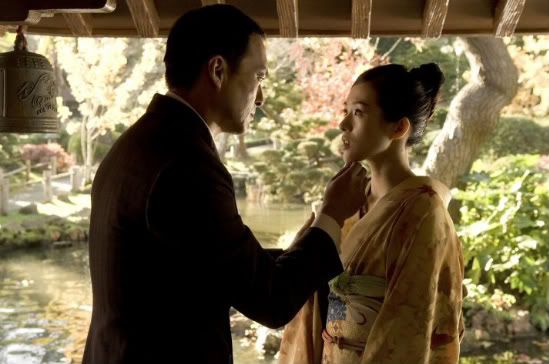 The movie's narrative is admittedly somewhat amorphous, simply relating the events from a period of one woman's life from her childhood until she is a young adult, but this lack of a coherent structure does not detract from the tale's quality. In fact, it gives it a sense of engaging veracity as life is rarely structured by a plot. The viewer is thus likely to find himself feeling as though he is peering into the lives of the characters.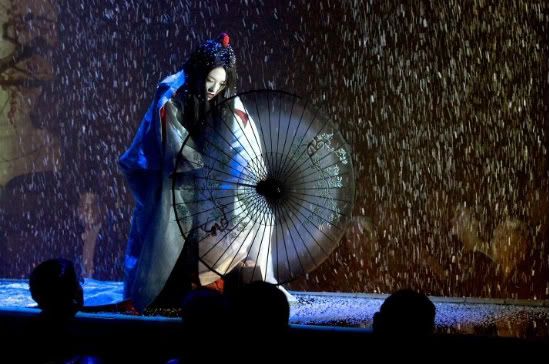 What is more, the various events depicted are often skillfully realized and both intriguing and touching. At different times, Marshall reveals Chiyo's homesickness as a child and her desire to escape from the geisha house, the cruel deceits with which Hatsumomo does harm to the heroine, the latter's resilience in the face of apparent defeat and humiliation, and other occurrences besides these. Some of the most appealing scenes, however, are those delineating the world in which the geishas live, such as those showing the training young women aspiring to be geishas undergo, their performances as dancers or musicians, their bantering with their clients, their squabbling with one another, and so on and so on.
These happenings are made especially interesting by the skill with which they are filmed. While I cannot say that the movie is astonishingly beautiful, it is always attractive. The director has done a fine job of creating a vision of prewar Japan with his depictions of crowded wooden buildings, dimly lit rooms atop steep stairs or enclosed by sliding paper doors, and narrow streets bustling with men and women attired in both Western and Japanese clothing. Even such costumes are nicely done and bring out the sumptuous elegance of the geishas around whose lives the narrative revolves.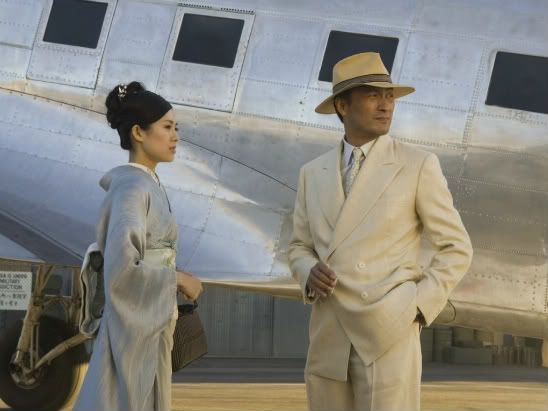 Lastly, I should note that while none of the film's performances are truly memorable, they are all accomplished. Li Gong's Hatsumomo is a spiteful joy; Michelle Yeoh's Mameha has a convincing sense of authority and tenderness, and Zhang Ziyi's Chiyo is, at once, engaging and sympathetic. While the lead actress's performance here is certainly not her best, she does acquit herself well. What is more, she is, perhaps, the loveliest woman working in film today and is, consequently, always a pleasure simply to look at. She really is bewitchingly beautiful.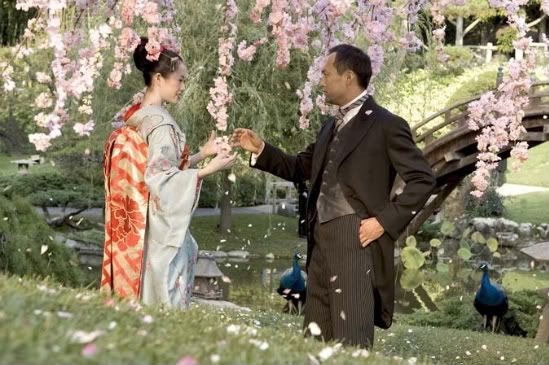 Memoirs of a Geisha is certainly no masterpiece, but it is a consistently enjoyable and moving work. It is undoubtedly well worth seeing.
Review by Keith Allen
Home Page / Alphabetical List of Films
List of Films by Star Ratings
Aesthetic Principles / Guide to Ratings
Criteria for Inclusion / DVD Stores / Blog
© 2006 movierapture@hotmail.com Keith Allen. All rights reserved.